The Future Of The Marvel Cinematic Universe – Seeking Alpha
Introduction
In 2009, Disney (DIS) bought Marvel. Disney investors weren't happy with that 4 billion USD expenditure. On the same day, the stock price plunged, and many analysts criticized the bloated price that Disney agreed to pay for Marvel. Eight years later, we all know that it turned out to be a highly profitable deal for both sides.
Marvel boosted Disney's sales in almost every category. It created new action figures and many TV series. Marvel's largest project was and still is the Marvel Cinematic Universe (MCU). This is Marvel's crown jewel. 16 movies with a budget of 3 billion USD, and grossed over 12 billion USD. For the past decade or so, it has been a gold mine for Disney.
These movies had a very meaningful contribution to the fast growing studio entertainment segment of Disney. The question is whether we as investors can rely on Marvel to keep producing, and keep selling tickets at the same pace. I have some worries.
In this article, I will show my concerns regarding the future of the MCU, the uncertainty that fans and therefore investors have to face, and will try to assess the future of the MCU.
Why I am worried regarding the MCU
Spider-Man: Homecoming is a great movie. It isn't only my opinion. The movie is praised by critics and viewers alike. Some reviewers believe that this movie is among the best of the standalone movies of the MCU. My concern is that even when the viewers love the movies, and critics, box office numbers while high, are not as high as expected, especially when comparing them to other summer hits, and the previous Spider-Man movies.
The casting for the new Spider-Man reboot was fantastic as well. Tom Holland suits perfectly for the job, and together with Robert Downy Jr., and academy award winner Marisa Tomei, I was expecting the movie will be great, and as I said, it was great and loved by viewers and critics.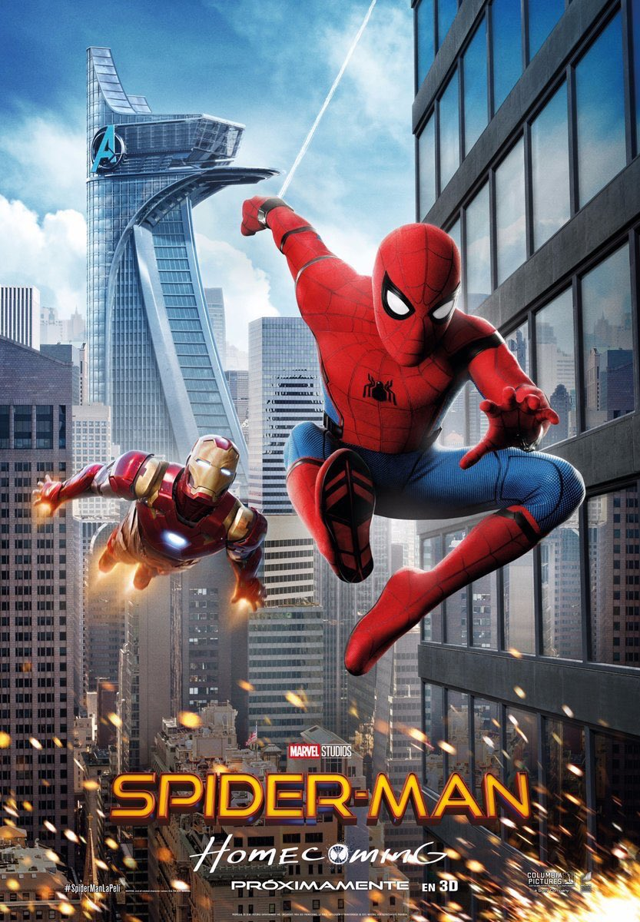 The first weekend was fantastic as Marvel fans flocked to watch the movie. It even managed to beat the original Spider-Man movie from 2002. Since then, while the movie is on its path to over $300 million in North America, and over $700 million globally, the amount of viewers has declined significantly. When comparing the movie to other summer hits, like Wonder Woman, Despicable Me 3 and Disney's Guardians of the Galaxy 2, the movie is not performing as well as expected.
I am worried because Marvel created a great product, marketed it aggressively, it enjoyed a fantastic reception, and yet the general public is not flocking to theaters, even when some competitors like Valerian and the City of a Thousand Planets and The Emoji Movie received terrible reviews
The movie will probably reach $300 million in the next two weeks, but it will never achieve the numbers of the original trilogy. I am afraid that the public is suffering from super hero fatigue. Marvel presented 16 movies in less than a decade, and when we add the previous reboot of Spider-Man, and the fact that DC (TWX) is now creating its own cinematic universe based on Marvel's formula, we will see many more super hero movies.
So far, Marvel managed to beat the competition easily. The second reboot of Spider-Man wasn't a great success, and it managed to create better movies, and higher grossing movies than DC. We saw a glimpse of change in 2016, when Batman v Superman, and Suicide Squad managed to gross over $325 in North America alone, even when the reviews were terrible.
I am afraid we are going to see more of the same in 2017. Wonder Woman is an amazing success. It will gross over $400 million in North America, and will beat Spider-Man both domestically and worldwide. Moreover, I don't see this trend changing in November, as DC will release their anticipated Justice League movie, two weeks after Marvel will release Thor: Ragnarock.
The uncertainties
The fans are the most important asset that Marvel or any other entertainment companies have. Marvel published its movies so far in three phases, and at the moment, it isn't clear what will happen in 2019. According to Kevin Feige, president of Marvel Studios, we will see something different when phase three ends in less than two years.
However, it is still not clear to investors what Marvel's plan is, and how they manage to cope with what might be a slowdown in box office revenues for the MCU. While competitors already released the names of their super hero titles, Marvel only told us that we will have another Spider-Man movie, and another Guardian of the Galaxy movie.
Moreover, we are still uncertain about which actors will continue in the next projects. Some of the strength of the brand is driven by the same actors that keep appearing in multiple movies. However, the actors have been devoted to the MCU for almost a decade, and some of them already said, that they consider their future in the MCU. Robert Downy Jr. said to an Australian new outlet:
"It's this cyclical thing. I could have said when the first 'Avengers' came out: 'It's never going to get any better than that. Everybody stop'. But to me it's always about people and opportunities, like the Russos, who I adore. Everyone says to me it's like a glove that fits so well. I have to start over every time but I am starting over with a pretty solid base. I just never want to blow it for the last six or seven [MCU movies] I have done by dropping the ball because I decided to go do it one more time. I just want to hang up my jersey before it's embarrassing."
While other prominent actors in the MCU thought about retirement, Downy Jr. is the most critical. Sure, every person has a replacement if necessary, but you cannot ignore the fact the he has a massive impact on the box office. He has played in 7 movies in the MCU, and each movie he played in grossed over $300 million (Spider-Man will reach this figure in two weeks). That is not a coincidence. He is the current face of the MCU, and it won't look the same without him.
So we have no clear plan, we are uncertain whether the stars will continue in the project, and the competition is becoming fiercer. It is really unclear what exactly is wrong. It might be that the viewers are just tired of the plot line, or just thought that they already saw 5 Spider-Man movies in the past 15 years.
Marvel Road Map
While the current situation might seem problematic, I am sure that Marvel and Disney have what it takes to confront the uncertainties. I am sure that they will come with new and enticing ideas that will lure the viewers back to theaters. The total gross in the table above are achievable using the great workers in Marvel Studios. Once Marvel will get rid of the uncertainties, investors will feel much more comfortable. They must offer a road map that will be clear. They did the same when they announced the previous phases. Obviously, with so many uncertainties regarding the cast, they cannot commit to anything at the moment.
They will have to choose a plot line that will fit the changes in the cast, and confront the slowdown in the box office. Disney's history is full of stronger and weaker eras in the box office. For example, it suffered from relatively weak several years in the 80s, only to enjoy the Disney Renaissance in the 90s. Therefore, I am sure that they will be able to deal with any weakness. As a long-term investor in the company, I trust the management team of Marvel and Disney. Marvel owns the rights for thousands of characters, and they will be able to cope with it.
In my opinion, people are not tired of the genre, as we see Wonder Woman is an overachieving hit. However, they might be tired of the current plot line. Maybe it's time for a reboot, or the adoption of a new story. I think that Marvel should rearrange the MCU. They should retire some characters, and add new ones. They can concentrate the next phase on new characters like Spider-Man and Doctor Strange, while letting the audience miss the old characters a little bit.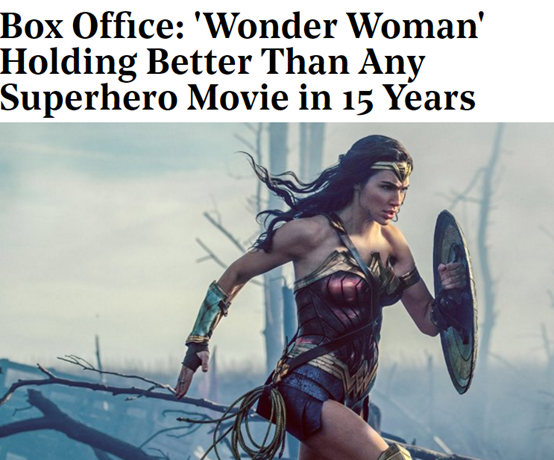 People are not tired of the genre (Hollywood Reporter, July 2017)
Investor Takeaway
The changes in Marvel going into phase 4 of the MCU will have significant impact on Disney. The company got used to over $1 billion in revenues each year from the box office, and much more from the merchandise rights. They should keep a closer look on the company, making sure that it offers a lucrative road map for the near future. I am sure that Marvel will do it.
If for some reason, the slowdown continues, and Marvel fails to deliver a winning plan, I will be a little bit more concerned. However, as I said before, the entertainment business is very demanding, and slowdowns might occur. Just as Disney had its own slowdowns and renaissance, Marvel might too. For the long run, they own a massive portfolio of plot lines and characters, and you shouldn't bet against it.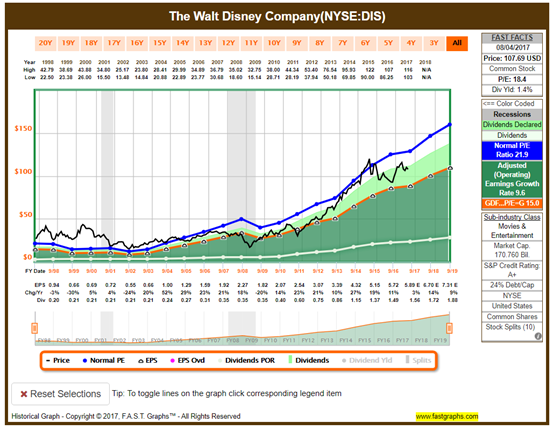 At the moment, Disney trades at a P/E ratio of 18. The company used to trade at much richer valuation. At the current valuation, it offers enough margin of safety to investors, even if Marvel won't deliver as planned. As I believe Marvel will keep delivering, I find this valuation pretty compelling.
In my opinion, even with the risks discussed above, Disney offers a fantastic risk/reward ratio. While the growth opportunities are massive, the risks can be contained, and were contained in the past, when similar slowdowns occurred.
Conclusion
While Disney showed massive growth in the studio entertainment segment, Marvel probably won't be able to contribute more than it did last year. However, it is still a power house. They need to think and regroup to create phase 4 as attractive as the first three. The trend is somewhat negative at the moment, and will probably stay that way in November, but I still believe that they have the knowledge, talent and experience to deal with it.
I believe that at the current price, Disney is still a buy. Below $100 it is strong buy, and if by chance it reaches the price of around $90, I will add more to my position. The company is very well diversified, and can cope with a revenue decline in Marvel. Buy Disney for the income, and the growth; just makes sure you understand that the business is cyclical.
Disclosure: I am/we are long DIS, T.
I wrote this article myself, and it expresses my own opinions. I am not receiving compensation for it (other than from Seeking Alpha). I have no business relationship with any company whose stock is mentioned in this article.
CommentsWrite a Reply or Comment: