Mattel-Hasbro Merger Getting Improbable – Seeking Alpha
The share price of Mattel, Inc. (NASDAQ:MAT) recovered some ground yesterday, rising 3.2% to $21.53 on the final day of the first half of 2017. Since closing at a 20-month low at $19.99 after hitting an intra-day low of $19.41 on June 21, 2017, the price has rebounded almost 11% from the intra-day low. Nevertheless, the year-to-date losses stood at -21.9%. If it's any comfort to Mattel shareholders, they are not alone as the shareholders of another toy company, JAKKS Pacific (NASDAQ:JAKK), are sitting on heavier, albeit just slightly, losses on a year-to-date basis at -22.3%. On the other hand, the difference between the share price performance of the two toy companies mentioned and Hasbro (NASDAQ:HAS) cannot be any more stark. The share price of Hasbro, which Reuters described as a "play and entertainment company", has risen 43% in the same period. Interestingly, while Reuters listed Hasbro and JAKKS Pacific as competitors of Mattel in Mattel's company description, there was no mention of the two toy companies in the full company description at Hasbro. Instead, Reuters listed Nickelodeon, Cartoon Network and Disney Channel as its competitors. It appeared to me that Hasbro has left its two former "toy competitors" in the dust, as it has already moved on to capture the broader entertainment revenue pie including content development and digital gaming. Together with recent contrasting developments at Mattel and Hasbro, it seemed to me that an oft-touted merger between the two names has become unlikely. I elaborate why in this article.
Mattel Slow To Pick Itself Up
Since Mattel released its disappointing first-quarter results after the market closed on April 20, 2017, for which its share price suffered a 13.6% decline on the next trading day, the bad news continued to flow for the company. First came the inevitable spate of analyst downgrades as they cut their projections and earnings multiples following the quarterly results. Next was the release of Hasbro's quarterly results, where the surpassing of Hasbro's quarterly revenue over Mattel since 2000 couldn't escape the eyes of journalists, which were eager to run headlines saying precisely that. Even a political turmoil in Brazil was reported to be negatively impacting the sales of consumer goods stocks like Mattel, as the negative consumer sentiment in the country resulted in a reduction of discretionary purchases like toys. Then came the Investor Day on June 14, 2017, where investors were anticipating Mattel to sound a positive note and the CEO to detail her strategy to turn around the company. Instead, what they dreaded most turned out to be true – the company shaved its quarterly dividend by 61% to $0.15 per share from $0.38. To add salt to the wound, the management also announced its guidance for the revenue growth in the second quarter.
Potential dividend cuts had been tossed about by some analysts before (U.S. News: Mattel's Horrendous Quarter Puts Dividend at Risk, April 24, 2017), but as others cited optimism on the new CEO, the hope was that the business would improve to sustain the dividend. Unfortunately, that did not happen fast and sufficiently enough. While Hasbro has been strengthening its Free Cash Flow to $719.60 million as of the first quarter, Mattel's Free Cash Flow has been deteriorating over the years to a low $86.50 million in the last reported quarter. Consequently, the cash dividend payout ratio rocketed to 600.5% in the latest quarter, in a sharp contrast to Hasbro, whose ratio was a very comfortable 35.42%. I have used cash dividend payout ratio as unlike the typical payout ratio which is calculated by the dividends divided by the net income; the denominator here is the free cash flow. YCharts provides a succinct explanation for the preference:
"Because net earnings can be easily manipulated and cash flows are harder to manipulate, this ratio is useful to analyze cash flow being paid in dividends. If this number is consistently high, or greater than 1, it indicates that the firm is paying out more in dividends than it is receiving in actual cash."
Hence, with the free cash flow decline continuing unabated and in fact worsening, the dividend cut was a prudent move to ensure sufficient funds for other operational needs and reinvestments.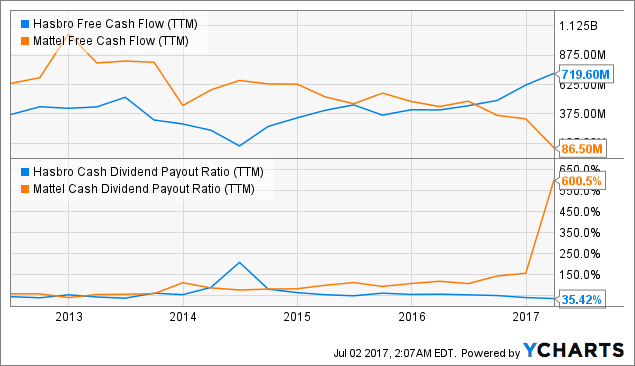 HAS Free Cash Flow (TTM) data by YCharts
Analysts Losing Confidence in a Turnaround
Investment firm D.A. Davidson reversed its position on Mattel pretty promptly. In a short span of just over three weeks, the firm switched from its initiation buy call on May 24, 2017, with a price target of $30 to a hold rating with a lower price target of $24 on June 15, 2017. The analyst responsible had believed the Mattel shares to be "approaching a bottom, following severe under-performance relative to the broad market during the first quarter", as the new CEO Margo Georgiadis appeared to have delivered some positive sales results. To the credit of the analyst, she did not shy away from expressing her reservations subsequently (three weeks later) that Mattel might not achieve her own lowered projections on the second half earnings for 2017. Nevertheless, she remained open to revising the rating "if we see tangible results of Georgiadis' changes". No one has a perfect crystal ball, even for seasoned analysts. Hence, I appreciate it greatly when a professional analyst provides an updated view as soon as his/her view changed, rather than insist on the original take.
It is not difficult to see why analysts have to often revise their projections in either direction for Mattel. The quarterly results of Mattel have turned up surprises both ways in the recent past. The situation is similar at JAKKS Pacific, where there were four EPS misses out of the most recent seven quarters. On the other hand, Hasbro has reported 11 consecutive EPS beats, with some of the surprises significantly better than the consensus estimates. For instance, in the fourth quarter of 2016, Hasbro reported an EPS that was 29% higher than the market expectation. In the same period, the track record for revenue was less perfect, with two misses. However, the misses were by $10 million and $30 million, a far cry compared with the revenue misses by Mattel at between $69 million to $130 million.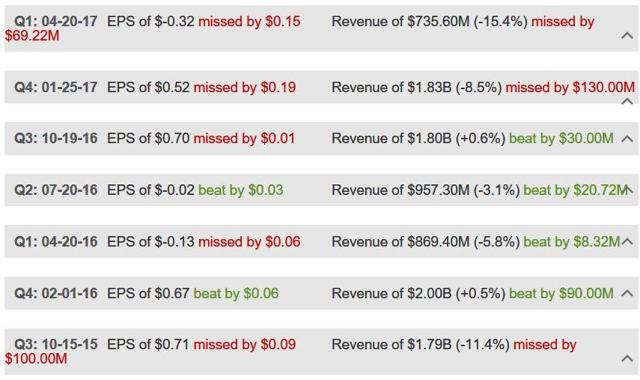 Source: Seeking Alpha
Hasbro Diversifying Away From Toys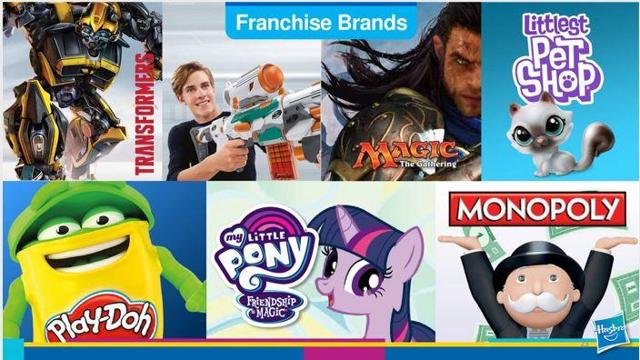 Hasbro has a solid line-up of franchise brands that are relevant and still resonate with children years after years. Nevertheless, the company is not resting on its laurels and is cognizant of the need to keep refreshing its offerings. On June 28, 2017, Nintendo (OTCPK:NTDOY) and Hasbro announced the Monopoly Gamer Edition which was set for a mass release in August this year.
Besides innovating on its traditional physical toys business, the company has demonstrated its ability to serve its customers in the new digital age. On June 19, 2017, Hasbro announced the launch of its first subscription service for games. What is impressive about the offering is the broadness in the coverage of customer base and the combination of physical games with virtual reality enabled with the use of smartphones. One of the themed crates is the "Party Crate" which contains "games with content geared toward college students, young adults, and parents who are looking to enjoy "adults-only" game nights". The other themed care is the "Family Crate" which offers "games designed to be played by kids and adults together". To ensure that subscribers stay hooked, Hasbro has what it termed as the "among the first for the gaming industry", an exclusive collection of games curated by Hasbro Gaming experts which are not already in the Hasbro Gaming portfolio, that would be delivered directly to each subscriber's door every three months.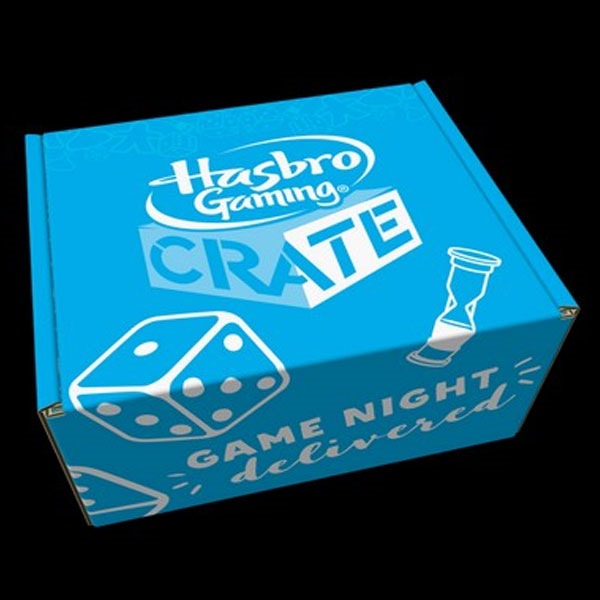 Weaker Rationale for a Hasbro-Mattel Merger
Hasbro has done relatively well among the three peers in the toy industry. Its revenue rose 22.76% over the past five years while Mattel's revenue fell 15%, a performance that was outdone by the smaller peer, JAKKS Pacific which scored a 6% gain. At the same time, Hasbro inventories grew at a slightly lower rate than its revenue at 22.66%. On the other hand, Mattel and JAKKS Pacific had to live with higher inventories even though their revenues were lackluster.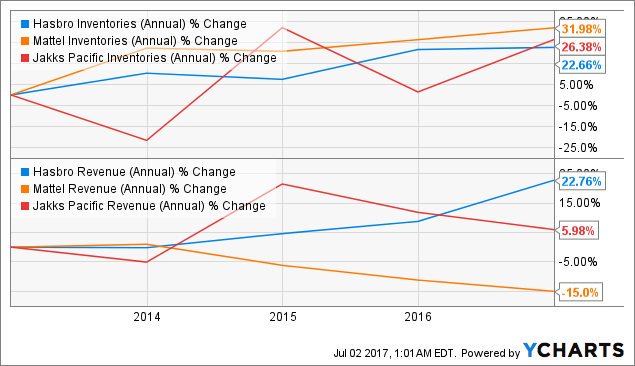 HAS Inventories (Annual) data by YCharts
Hasbro has achieved steadily higher Return on Invested Capital (ROIC) since 2014 and its ROIC has reached 17% based on the last quarter. On the other hand, Mattel's ROIC plunged from 19% in 2014 to around 6% in 2015 and has struggled to recover. The contrasting metric could portend challenges in a merger, as the gap might be a result of different capital management, human resource capabilities, and the strength of the product portfolio at the two companies. Not to forget, the two companies would have to deal with culture clashes and the pride of Mattel's management who would likely not be pleased to be treated anything other than as an equal.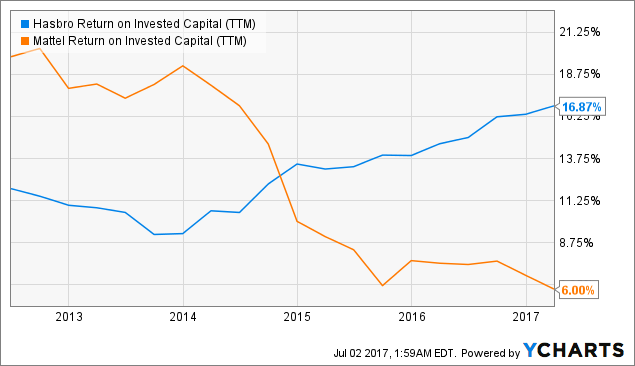 HAS Return on Invested Capital (TTM) data by YCharts
While the Enterprise Value (EV) of Hasbro and Mattel were on parity early this year, the difference between the EV of the two companies has widened considerably since then. If the situation continues, the management of Mattel would not like it, but a deal between the two would be termed as an acquisition by Hasbro of Mattel. At the rate the EV of Hasbro is increasing, in just another half a year, the EV would rise to $16 billion. By which time, the EV of Mattel could fall to $8 billion or just half of that of Hasbro. Hence, a merger would thus be getting improbable. However, the crux of the issue is not just a technicality. It is as highlighted earlier that Mattel has been slow in its turnaround plans while Hasbro continued to demonstrate its ability to navigate the shift to digital platforms, in line with the change in consumer behavior. It is not that Mattel is not aware of this phenomenon as well. CEO Margo Georgiadis noted during the Investor Day that 85% of children between the ages of three and five have access to a tablet. While Hasbro has already released its digital games, Mattel is still in the process of building its Power Brands into "360 connected" systems of play and experiences.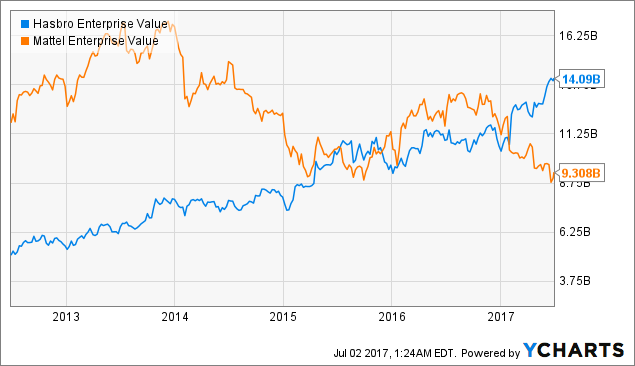 HAS Enterprise Value data by YCharts
It is not all negative for Mattel. It has improved on its working capital needs with a significant reduction in the first quarter. The $261 million increase in the working capital in the fourth quarter of 2016 was for building up of the inventory in preparation for the Disney (NYSE:DIS) movie, Cars 3. That has now passed and the management proved it is capable of keeping to its working capital reduction efforts, which has been on a downtrend since 2014.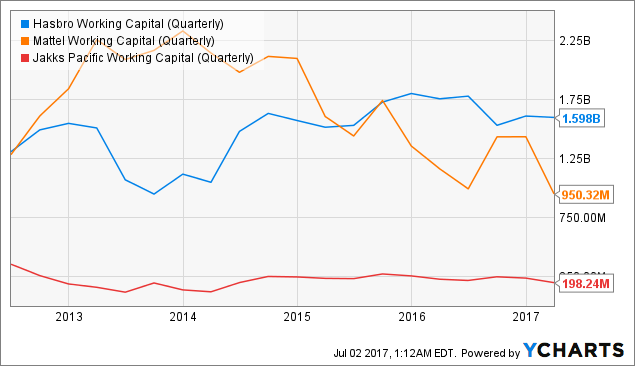 HAS Working Capital (Quarterly) data by YCharts
Short sellers seem to agree that all is not lost at Mattel. The outstanding short interest has stayed within a two-year low despite a dividend cut, a lackluster quarterly result, and a softer outlook. Hopefully, for Mattel's investors, the company can improve its businesses on its own, without the need to pin the hopes of a rebound in the share price on an increasingly improbable merger or an acquisition for that matter.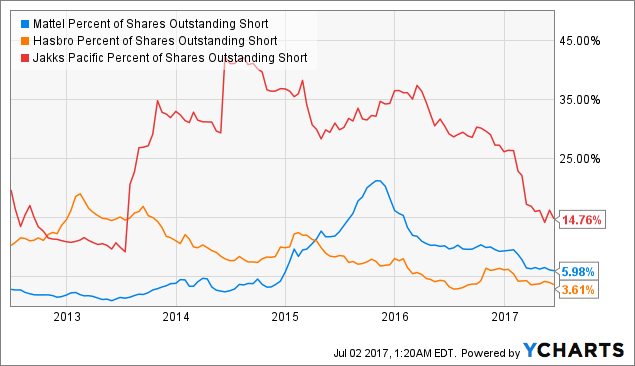 MAT Percent of Shares Outstanding Short data by YCharts
Note from author: Thank you for reading. My articles revolve around a subject or angle that I feel might have been overlooked. If you would like more of such articles and wish to be informed as soon as they are published, please click on the "Follow" button below the title near the top of this page and check the "Get email alerts." If you have additional insights on the topic or contrasting views, please kindly share them in the comments section.
Please note that this article is meant for the general population as part of the research into the company. The opinions expressed here do not constitute investment advice and independent advice should be sought where appropriate.
Disclosure: I am/we are long DIS.
I wrote this article myself, and it expresses my own opinions. I am not receiving compensation for it (other than from Seeking Alpha). I have no business relationship with any company whose stock is mentioned in this article.
Editor's Note: This article covers one or more stocks trading at less than $1 per share and/or with less than a $100 million market cap. Please be aware of the risks associated with these stocks.
CommentsWrite a Reply or Comment: