Mattel Has Sent Collectors On A Treasure Hunt; Will Your Portfolio Be Enriched? – Seeking Alpha
In stores around the world there is a treasure hunt underway and it could mean big profits for investors who add Mattel (NASDAQ: MAT) to their portfolio.
With 32,000 employees and 2016 gross sales of $6.07 Billion, it's safe to say that the company is one of the world's largest toy manufacturers. You may not know the company by its name but you certainly know its famous toy brands: Hot Wheels, Barbie, American Girl Dolls, Mega Blocks and Fisher-Price.
The company has had some issues recently that have negatively impacted the company's stock price; but to understand the true value of the company's stock you to understand the toys, brands, markets and business that the company engages in.
Hot Wheels & Barbie
Two of the company's most recognizable brands are Hot Wheels and Barbie. These brands are iconic and have grown into more than simple children's toys with adult collectors of both brands cherishing prized pieces and paying a premium for the sought after collectibles.
In 2016, Barbie sales were $971.8 Million and the combined Hot Wheels and Matchbox brands accounted for sales of $885.1 Million.
If you haven't bought toys in a while let me explain something about these numbers that you won't find in the latest annual report: You have to pay a premium for the Barbie name.
You can get an off the shelf doll similar to a Barbie for about $5-$10 but if you want an actual Barbie brand doll you're going to be in the $15-$20+ range. Barbie is the golden standard other dolls aspire to be.
For years Hot Wheels was in a similar position when compared to Matchbox cars. They were made out of higher quality parts, better constructed and were all around a superior product. A few years ago, the company bought Matchbox giving the company close to a monopoly when it comes to die-cast toy cars.
The company's other brands are just as powerful. It's hard to go wrong investing in a company that sets the bar other industry players aspire to.
Collectors On A Treasure Hunt
The company realizes that collectors matter. The adults are the ones with the money and that make the purchases. The only thing better than adults buying toys for their kids is when they buy toys for themselves.
In 2016, the company spent $634.9 Million on advertising. This is down from the $717.9 Million spent in 2015 and $733.2 Million spent in 2014. This isn't just a cost-cutting measure. The company is able to drive sales without traditional advertising and this fact has long been overlooked by investors and analysts.
In 1995, the company introduced the first line of Treasure Hunt Hot Wheels. This set contained 12 of Hot Wheels' most iconic cars, each with an over the top paint job, and each car had a limited production of only 10,000 pieces.
The treasure hunt line has continued with a set of 12 cars each year since and they are highly sought after. This draws collectors to the Hot Wheels every time they go to the store. It makes them look through each car on the rack and drives sales of cars not in the Treasure Hunt line.
I've found 3 treasure hunts in 17 years; but because I was looking for them I ended up finding countless other cars I couldn't resist adding to my collection. It's probably one of the best marketing strategies ever used and it's been working for 22 years.
As long as the company continues to embrace, and leverage, the collector bases that the company's brands have created, the company will maintain a significant competitive advantage over its competitors.
Dividend
A treasure hunt of a different type happens on Wall Street every day. Investors look for that rare investment that can help their portfolio grow, and that's where the company's dividend becomes important.
The company has paid an annual dividend of $1.52 in 2016, 2015 and 2014. At the current share price of approximately $22.53 that's a yield of 6.75%.
In 2016, the company declared 100% of its dividend to be a non-dividend return of capital. Even better, according to the 2016 annual report, the company currently estimates that approximately 70% of future distributions will be designated non-dividend returns of capital.
Since the dividends are considered a return of capital most investors won't be required to pay taxes on these distributions; instead, they will need to reduce their cost basis by the amount of these distributions.
This is an important distinction because it gives investors more money to invest today while putting off paying any taxes until a later date.
It's assumed that when the stock is sold, the lower cost basis will mean that investors realize a larger profit, which will be taxable, but no one says you ever have to sell the stock at all.
You could continue to hold the stock indefinitely to collect the dividends and let the company's long-term value reflect itself in the stock's price. You could hold the stock and collect the dividends until such time that the tax liability of selling has changed in your favor; tax laws change or there may be years that you're in a more favorable tax bracket.
The company has a great FAQ page dedicated to this subject that gives investors detailed information and examples.
Seasonal Issues
The company has recently suffered seasonal issues that have negatively impacted the stock price; but these issues are temporary in nature and unlikely to have a material impact on the company's future prospects.
The toys the company manufactures are relatively simple and cheap to produce. The company regularly invests in molds, dies and tooling that allow it to produce these toys, none of which are particularly expensive or vital to the company's continued operation.
The big drawback to the toy business is that it is highly seasonal. Toys are sold throughout the year but the big time for the toy business is the holiday season.
This means that a large portion of the company's advertising budget is spent at a time of year when advertising is most expensive. The company must have toys ready for the holiday that are going to either be that year's hot item or that can at least compete with that year's hot items.
In addition, the company ships the majority of its products on credit allowing the company's customers to receive the merchandise before having to pay for it and thus increasing the company's risk if the holiday season goes bad, which is exactly what happened a few months ago.
What Went Wrong
It's become clear that this past holiday season wasn't the best for the company. Sales were below expectations, which resulted in more of the company's toys remaining on store shelves, which has since resulted in a slower pace of reorders.
This has also put 2017 sales off to a slower start than would be ideal.
I find it very hard to believe that Barbie doll will ever fall from the number one spot on Christmas lists for young girls. I find it equally hard to believe that little boys will ever stop wanting to play with their toy cars. Parents of toddlers will continue to buy Fisher-Price toys for their little ones. I find this true of the company's brands across the board because of how iconic they are and because these toys are such staples of the toy world.
The problem isn't that the company's toys aren't in demand, it's that there are more than just toys fighting for children's attention.
I'm around kids a lot, ranging in age from 3 or 4 to late teen. It's amazing how much time kids spend with technology. I've been in stores with 4 and 5-year-olds that immediately ask for mom's phone when they get in the basket so they can play games, but they also ask to go to the toys and ask for a new doll.
This competition with technology didn't exist just a few short years ago, and it's this competition with technology that hurt the company this last holiday season.
The company is aware of this paradigm shift and is working to adapt, but they missed the mark at the holidays.
They shipped too many toys which sold at a slower than expected rate. Since they ship their toys mainly on credit, it didn't have as much of an impact in 2016 as it has had in the first quarter of 2017, but the company will need to look carefully at what happened the past few months so history doesn't repeat itself at the end of the year.
What Can Be Done
The company is already working to make toys smarter and more tech-based. That's a good step in the right direction, but it's not enough. The company must leverage its brands in new ways.
It's not hard to imagine a Hot Wheels app that lets you purchase, collect, customize and race virtual Hot Wheels cars right from your favorite device.
Similar apps could be made for Barbie, Mega Blocks and even American Girl brands.
Why should kids and their parents have to go to the store to purchase Hot Wheels when the company can sell them a virtual product from the comfort of their own home? And what a great way to drain mommy and daddy's wallets.
"Mom, Tommy down the street keeps beating me. Can I buy a new car and upgrade the tires?"
The company has the brands, it just has to leverage them and leverage them properly. Pokemon Go was a short-lived failure of epic proportions. All the company has to do is look at the iconic brands that have gone into this space before and failed and create income streams that will pay investors dividends for years to come.
There are plenty of ways the company can overcome the factors that made this holiday season less than ideal. The important thing is that they realize the issue and are actively working to stay ahead of the competition, regardless of what form it takes.
Accounts Receivable
At the end of 2016, the company had over $1 Billion in accounts receivable. The company rarely has problems collecting on its accounts. Some of the world's largest retailers are the company's biggest clients accounting for the largest portion of its receivables.
In addition, these receivables could easily be sold, so should an emergency arise, the company can raise cash quickly. This would be less than ideal; but at least it's an option.
In fact, the company did sell approximately $19.5 Million in foreign receivables in 2016 to assist in the financing of the company's seasonal needs.
Cash Usage
The company has done a great job at managing their cash flow and utilizing that cash. At the end of 2016, the company had $869.5 Million in cash and equivalents on hand.
The company has set out what it calls a capital and investment framework stating their goals as:
Maintaining $800 Million-$1 Billion in cash and equivalents at year-end each year.
Maintaining year-end debt-to-capital ratio of approximately 35%.
Invest $180-$200 Million annually in capital expenditures.
Create strategic acquisitions.
Return excess funds to investors via Dividends and Stock repurchases.
The company's acquisitions of Matchbox, Mega Blocks and American Girl Dolls in recent years are all great examples of the company making strategic acquisitions, which will benefit investors for years to come.
The company also has $203 Million remaining on its stock repurchase authorization, which does not have an expiration date.
It's easy to say you're going to do things that are good for the company and good for the shareholders, but this is one of the few companies that has actually made good on those claims.
By The Numbers
At the current share price of approximately $22.53 a share the company has a market cap of $7.71 Billion.
The company has $7 Billion in overseas cumulative undistributed earnings that it plans to indefinitely reinvest. The company has maintained assets of approximately $6.5 Billion for the past 5 years. The company has $869.5 Million in cash, $1 Billion in accounts receivable, $3.54 Billion in retained earnings and only $2.13 Billion in long-term debt.
If you look at the company's Price-To-Earnings ratio of 28.27, then the company's stock may look expensive; but if your look at the Price-To-Book Value of 3.537, it looks much more attractive.
Over the past 5 years, the company's Price-To-Book Value has ranged from a low of 2.69 to a high of 5.48 with the ratio being above 4.0 the majority of the time.
The company's stock is trading at near a 7-year low. I would love to see the price go lower to give investors an even better entry point, I would like to see the P/E ratio come down a little and I would love to see the Price-To-Book Value below 3. But I would rather get in now at a near historical low and then take a larger position later should the price go lower than to miss a great buying opportunity hoping for a lower entry point.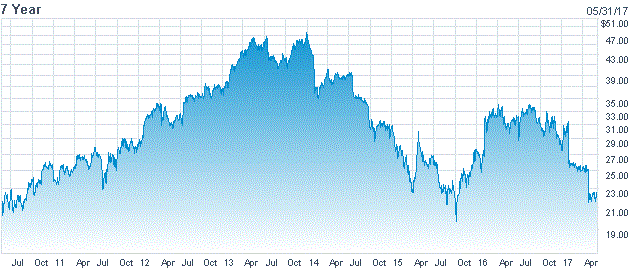 Licensing
Licensing agreements are critical for the company. They complement the company's core product lines and give consumers a reason to make a purchase.
Maybe you wouldn't normally purchase an off the rack Hot Wheel, but then you see one labeled Batmobile. Maybe your daughter has a dozen Barbies, but then you see one that looks like The Little Mermaid, which happens to be her favorite.
Licensing agreements are a way for the company to drive product sales without spending money on traditional advertising. It's similar to the idea of a Treasure Hunt only the company does have to spend money for the rights to produce these products.
In 2016, the company reported that the "Other Girls" segment had sales down 52% year over year. But 47% was simply because of lower sales and the loss of license of the Disney Princess products line.
On the other hand, of the 2016 sales increase of 13% in the "Entertainment" segment, 12% was due to DC Comics licensing.
Licensing has been, and will continue to be, a crucial way to drive sales for the company; but one or two licensing flops or losses shouldn't overshadow a long history of very successful licensing agreements that have driven sales and have been extremely successful.
Summary
Mattel is coming out of a less than ideal holiday season and as a result, the company's stock has been negatively affected, which can create a buying opportunity for investors that see the long-term value the company has.
The company's iconic brands will drive sales for years to come and provide investors with a margin of safety other toy manufacturers can't provide.
With continued strategic acquisitions, a realization that traditional toys need to better compete with today's technology and utilizing past sales data to better predict future seasonality demands the company is well positioned to remain the king of toys for years to come.
In the meantime, shareholders can sleep well knowing the company is trying to increase shareholder value and even designing distributions and dividends to be in shareholders' best interest.
Disclosure: I/we have no positions in any stocks mentioned, but may initiate a long position in MAT over the next 72 hours.
I wrote this article myself, and it expresses my own opinions. I am not receiving compensation for it (other than from Seeking Alpha). I have no business relationship with any company whose stock is mentioned in this article.
CommentsWrite a Reply or Comment: