Five years of fatherhood has made me familiar with the blissful sensation that is settling down at my desk after an exhausting holiday with my children. Today, though, I have a nagging suspicion that the feeling is mutual. According to research by Gundi Knies at the University of Essex, Easter holidays are the unhappiest time of year for children: exams loom, they miss friends and have less control over their activities.
Dr Knies studied children aged between 10 and 15, so I hope mine (five and three) are still having a rather lovelier time at home, although when one discovered that our Easter Sunday egg-rolling involved the destruction of her beautifully painted egg, she declared that she'd like to be back at school.
Britain's child happiness statistics are pretty dire. Poverty and overworked parents must be part of it, but so are consumerism and a loss of past freedoms. These latter two sources of unhappiness can be salved by one simple thing: more free play outdoors.
This is easier said than done, but I was taught an excellent lesson by friends we holidayed with in Cornwall over Easter. They are enthusiastic walkers and led their five-year-old boy and me and my five-year-old twins on a walk I never thought my girls would endure: it was three miles and contained a vertiginous hill.
Parents are corralled into mass-produced (Easter) egg hunts because most of us are terrified about entertaining our children outdoors. This underestimates children's capacity to entertain themselves.
But a conventional "walk" does require some parental cunning. My friends were geniuses at dramatising the walk for childhood consumption, like a really good box set: a series of episodes each with a pacy narrative – a Pooh-sticks race in the stream, the Witch's Cottage (an abandoned barn) – which made a daunting narrative arc (the walk) really trot along. Soon the kids took over, painting their faces with mud and finding tadpoles in a puddle.
In the end, we let them run back along the coast path to the holiday cottage keeping them in sight, just, and hoping they wouldn't hurl themselves over the cliff. When we caught up with them, they were flushed with pride at their newfound independence. This moment of freedom was probably their happiest of the holidays. Mine too.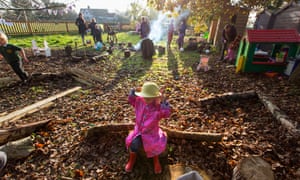 Creative and outstanding
My three-year-old spent the holidays getting misty-eyed about his forest school nursery. And so he should. When I interviewed several innovative outdoor nurseries a few years ago, I found teachers frustrated by Ofsted withholding "outstanding" ratings. One nursery was informed that its children didn't have enough IT opportunities.
Perhaps now Ofsted inspectors are learning, because his nursery, Dandelion, has just been judged "outstanding" in all areas.
I'm glad this inspiring place is getting deserved recognition, and that teachers can still innovate in an era of austerity. Another example is Turners Hill school in Sussex, which has become probably the first British school to install batteries to store its solar-generated electricity.
This is funded by REPOWERBalcombe, a community group providing safe renewable energy in an area imperilled by fracking. We need this sort of creative local action more than ever.
Art of the jump
Less positive energy has been generated by an Antony Gormley figure positioned on a roof at the University of East Anglia, as in this context, the statue looks like an exam-stressed student contemplating a jump. Universities are unfairly castigated for their "safe space" caution, but this work seems rather dangerous to me.